INDU DOWNLIGHT
Cost-effective recessed downlight for offices, reception areas and corridors
Description
INDU DOWNLIGHT offers a beneficial LED alternative to fluorescent spotlights for typical professional indoor venues such as reception areas, offices, conference rooms, corridors and lifts. With its lightweight, aesthetic and clean design, it blends into all interior areas.
Available in various sizes/lumen outputs, INDU DOWNLIGHT is a flexible solution with all the advantages of the latest LED technology: low power consumption, long lifetime, no specific maintenance requirements, control options for dimming and light-on-demand features.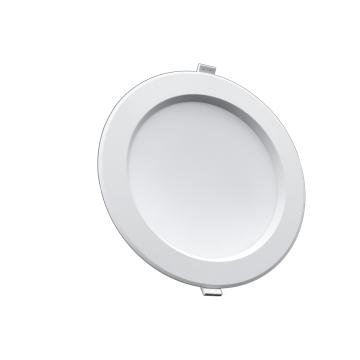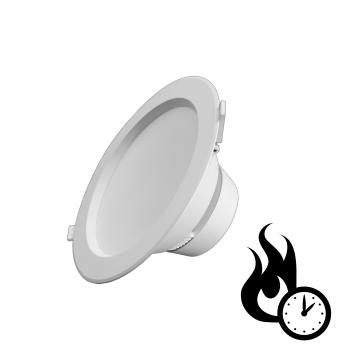 3 sizes for flexibility

INDU DOWNLIGHT is available in 3 sizes, each offering a typical lumen output.

Optimised work environment

INDU DOWNLIGHT provides high visual comfort. It delivers a neutral white light with a high colour rendering index (CRI 80). INDU DOWNLIGHT contributes to a brightly-lit environment for a happier, healthier workforce, which is in turn more productive and likely to stick around.

Fire-resistant

INDU DOWNLIGHT offers a high flammability resistance (650° C) to keep providing light during a fire and to prevent smoke emissions.

Sustainable performance

The design offers optimal heat dissipation for long-lasting performance.
Characteristics
General Information
Electrical information

Electrical class

Nominal voltage

Control protocol(s)
Performance

Luminaire output flux (lm)

Luminaire efficacy - up to (lm/W)
Optical information

LED colour temperature

Colour rendering index (CRI)
Housing and finish
Lifetime
Operating conditions
Dimension and mounting

Dimensions and mounting

AxBxC (mm | inch)

INDU DOWNLIGHT 1 - 145x78.5x145 | 5.7x3.1x5.7

INDU DOWNLIGHT 2 - 175x84.5x175 | 6.9x3.3x6.9

INDU DOWNLIGHT 3 - 245x98.5x245 | 9.6x3.9x9.6

Weight (kg | lbs)

INDU DOWNLIGHT 1 - 0.1 | 0.3

INDU DOWNLIGHT 2 - 0.3 | 0.6

INDU DOWNLIGHT 3 - 0.5 | 1.1
Control systems
Control options for INDU DOWNLIGHT
As an option, INDU DOWNLIGHT can be controlled via the DALI protocol and integrate a Building Management System (BMS). It can also be associated with detection devices to create responsive light-on-demand scenarios.
Control link
Installation and Maintenance
INDU DOWNLIGHT is designed for recessed mounting with spring-retaining clips. It offers easy installation with a quick electrical connection.